Direct Mail Advertising that drives results at a fraction of the cost
As any business owner knows, you get returns from investments, not from expenses, so understanding that you're investing your marketing dollar in the hope that it will bring you a return is the only way looking at your marketing and advertising that makes sense.
What options do you really have? There are many forms of marketing such as magazine, coupons, online SEO, brochures, fliers and business cards. All of them have different strategy approaches and cost measures to consider. But which one really has a balance? Postcard Advertising has recently become the more popular, economical and maximum exposure campaign you can do today that achieves this balance.
For a fraction of what you would spend in doing any type of mailing yourself that can include brochures, fliers, coupons or in this case, post cards, CardNola can help you deliver the right message to our more than 50,000 family homes in our list with our post card marketing service. How much can we save you? Check out below and see how we make the difference.
Compare Us VS. Doing It Yourself
*50,000 Family Home Campaign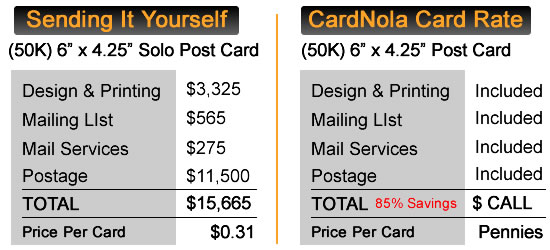 With savings totaling in the thousands, we not only provide ROI savings but also can take the hassle and stress in running your advertising campaign. Our team is here ready to help you achieve the business goals you want, and the rewards you are seeking. Call us today at 504-305-6212!